Missions & Service
The mandate of our Missions & Service committee is to provide leadership, helping our Covenant Mennonite congregation to address needs in both our local and global communities. We attend to the mission endeavours of the Mennonite Church and M.C.C. in particular and, more generally, to issues of peace and justice.
Our financial allocations include support for:
• Katie Cares Cottage
• MCC Canada: Nepal Earthquake Relief
• MCC Global Family
• Little Flowers Church Community
• Winkler and District Food Cupboard
• MC Manitoba: Camps with Meaning
• Open Circle
• Todd and Jeanette Hanson (China mission partners)
• Rural Chinese Pastors
• South Central Committee on Family Violence (Genesis House)
• Central Station (Winkler)
• Canadian Foodgrains Bank
• MCC response to crisis in Syria and Iraq
• MCC Indigenous Relations
• Atzin in Mexico
• The Mennonite Benevolent Society for the work of Mennonite Family Centre in Zaporiszhzhya, Ukraine
Covenant contributed to the financial needs of nine organizations in Manitoba and eight international programs. Ten of the programs supported are affiliated with MCC or the Mennonite Church. Geographically, our contributions included work in Canada, China, Nepal, Mexico, Ukraine, and Syria & Iraq.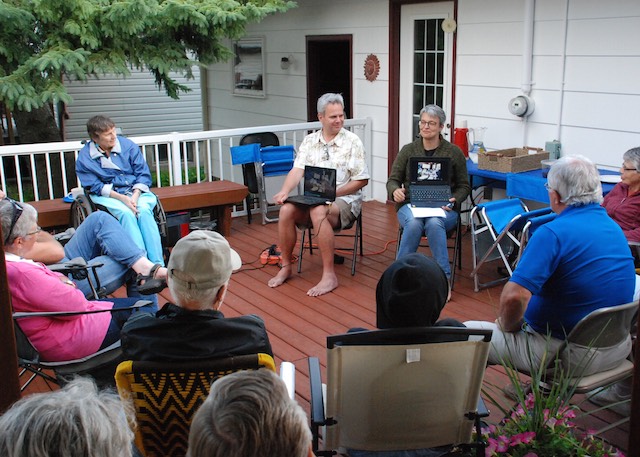 Todd and Jeanette Hanson in July, sharing their work experiences in China.
Our "Christmas Giving Project" in December was "Give the Gift of Food."  The donations this year supported food assistance from Canadian Foodgrains Bank to refugees in Syria, Lebanon, and Jordan. Each donation had 5:1 matching (4:1 for CFGB; 1:1 for CN government's "Syria Emergency Relief Fund").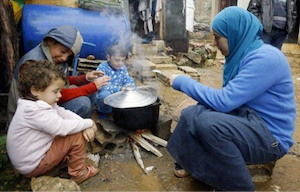 The response from the Covenant congregation was generous and heartfelt.  With the matching funds, it was enough to provide a month of food assistance to 2781 refugees.  On behalf of the many refugee recipients, our Committee says THANK YOU, COVENANT!